It has been a full year since Adam has come home from Iraq, and almost a full year since I chose to leave Austin Texas, to Move out to Killeen, A town that Yes is about 45 minutes to an Hour away from Austin but is still town that you feel like you're in a whole new country.
The Deployment was one of the hardest things I have EVER done in my life.
The person I gave my heart too was gone in a blink of an eye, Thank you Skype for making it somewhat easier than it could have been. And I am SO very thankful that we do not have to go through another deployment.
The day that 1st Cav came home was like getting a BIG piece of my family back.
All my Boys have come home safe and sound, But Adam had to stay behind a few more days.
Instead of driving back and forth from Austin to Killeen, I packed a bag and stayed in the Barracks with one of Adam's soldiers and his Girlfriend.
Finally Adam was coming home with about 70 other soldiers. And as we stand there and wait patiently for the prayer to be said, the arms and the song.. Im choking back tears as the announcer says " Families! Go get your soldiers!"
what a crazy mash up, so many people and so many soldiers it was almost hard to tell one from the other.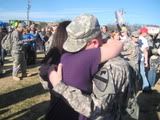 The picture posted above has far more emotions in it than you can imagine. Just looking at it again brings tears to my eyes. Adam and I went to hell and back during his deployment.
As Im hugging him I'm bawling and saying "Im So Sorry, I Love you so much." And for the first time, Adam put his head in my shoulder and started crying.
so After a year of his return and moving in and out of a Townhouse that was full of friends, tears, Laughter and Love.
Adam and I have moved into a House, with two dogs and a big backyard Bills and responsibilities .
I couldn't be more proud of who we are today.
Every Day, Is a new Journey.
Every Day, Is a new chapter.
Every Day, I fall more and more in love.
And even though the Military life is hard at times it has built such a strong relationship for us.
Loving a Soldier isn't easy, But I wouldn't change it for the World.