It has been quite a roller coaster for me these past few weeks.
I suppose something hit me, and I have actually been realizing more things.
I woke up this morning at 4 am from a dream, Luckily I had to be up anyways to get to work.. But I kept saying over and over in my head, " If you do not believe you will not succeed." Ok cheesy sounding right? Yes, But every now and then I will have the random songs stuck in my head when I wake up, never have I had a quote. I started my morning off with too many thoughts running through my mind.
Work was well, Work.. the Usual Sunday morning's a little chit chat with the ladies and some laughs shared as well..
And While My Manager was putting away the order, she pulled out a box full of Books, Partner Special Edition books.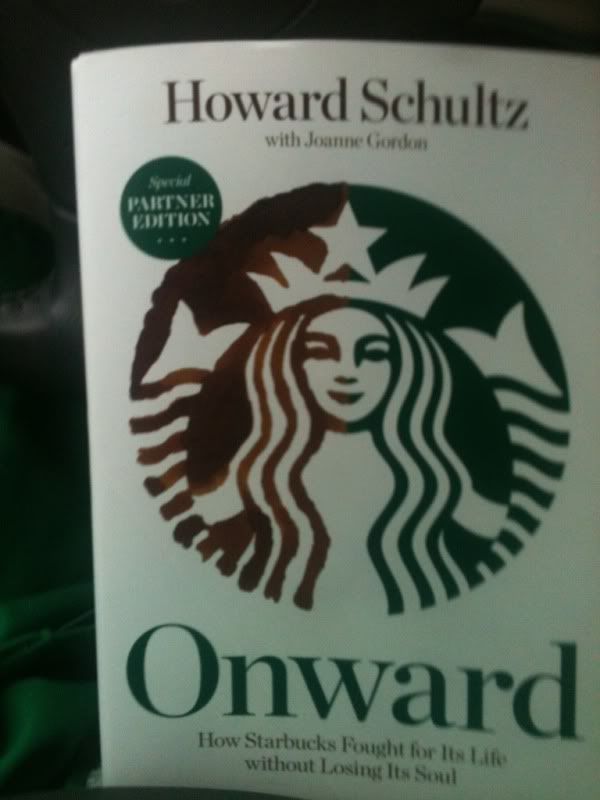 "Onward"
As nerdy as this may seem, Howard Schultz is actually a huge inspiration to me. His Career drive and passion for making sure that his Partners and their families are better off is something that you would never see from a C.E.O of any other company.
Onward will be released shortly, But the Partners get a "Partner Edition" I started reading it a little this morning on my break and did not want to put it down. I Eventually had too of course and headed back on the floor.
I started to notice something, as the morning got busy and churches started to let out... the people coming in were being rather snobby. "give me this" "oh this is terrible." " NO! thats Not what I ordered cant you get it right?"
-Pause-
I have NEVER been so disgusted by Americans, let alone Humans in my life.
I understand that this town is no fun. Everyone is stuck here for at least 3-5 years and NO one is happy, There is NOTHING to do here and it's overpopulated to begin with. But I cannot believe how rude people can get with those who are trying to give you the best customer service possible.
I see this more than ever, Working at Best Buy on the sales floor and Geek Squad and then during my shifts at Starbucks, Honestly It sickens me.
But, I do my best and keep a smile on my face and just keep truckin'. I don't want to be here just as much as the next person.